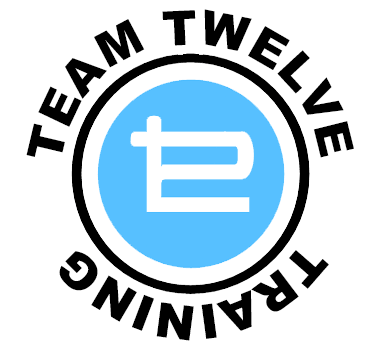 Personal, Group and Team Training for all Fitness Levels
Volleyball Camp
2 Indoor Volleyball Camps are offered each Summer
On-Court Instruction
Small Group Technical Instruction Volleyball or Basketball
Beach and Indoor Volleyball
Summer Beach Programs and Indoor Volleyball Programs All Year
Volleyball Camp
2 Indoor Volleyball Camps are offered each Summer
T12 Adult Training Options:
T12 Cross-Training Program
The T12XT Program is simply the best and most cost effective way to get in the best shape of your life.
Every workout is different. Challenge your body with muscular endurance, strength and power workouts. Throw in some agility, balance and co-ordination and you have enough variety to keep your body challenged and your mind stimulated.
​
T12 now uses a training app. Track your workouts and training schedule. All Cross-Training workouts are sent directly to your devices. Keep track and monitor your workouts and see what you are missing when you are away.
There are a number of membership possibilities.
Unlimited Membership - $135 + HST ($152.50)

2 Times per Week - $100 + HST ($113.00)

3 month loyalty discount $330 plus HST ($371.20) - BEST VALUE! January to April, April to June, June to August

Student Unlimited Membership - $90 + HST ($101.70)
SEE SCHEDULE FOR CROSS-TRAINING PROGRAM BELOW
New members are always welcome to come in and try a free trial class. Email us today if you are interested. Monthly training times are listed on the blog on the home page. We are also willing to work with people who need to modify memberships listed above.
​
T12 Personal Training
Reasons for doing Personal Training:
Using physical training to specifically train for a set goal/objective - example: Prepare for Police Testing, Train for a Tough Mudder

Create a solid foundation of fitness in order to feel more comfortable in Cross-Training Sessions

Create a solid foundation or further develop skills used in Cross-Training Sessions

Provide supplementary workouts to Cross-Training Sessions
Personal Training Pricing (effective January 1, 2018)
Program Creation - 2 - one hour sessions - $180 (1 on 1) - Specific training goal and a fairly high level of exercise technique experience
6 Personal Training Sessions - $450 plus HST - Good for people looking for a kick-start to fitness, education, skill development or introduction to cross-training sessions
12 Personal Training Sessions - $840 plus HST - Good for people looking for some extra motivation
T12 Small Group Training Program
Small Group Training is a great way to create a cost-effective training environment that has the flexibility to create your own training times from session to session.
Small Group Training - 2 or more people
2 people - $40 per athlete per session

3 people - $30 per athlete per session

4 people - $25 per athlete per session

5 or more people - $22 per person per session

6 or more people - $120 per session divided amongst participants
NEW REVISED SCHEDULE FOR ADULT CROSS-TRAINING - January 5, 2019
​
FOLLOW US ON INSTAGRAM FOR EXTENDED HOURS AND WEEKLY UPDATES - @TEAM_12_TRAINING
Monday 9am - Cross-Training and Open Gym
Monday 9am-11 - Open Gym
Monday 4 - Cross-Training and Open Gym
Monday 5 - Open Gym
Monday 6 - Open Gym
Monday 7 - Cross-Training and Open Gym
Monday 8 - Cross-Training and Open Gym
Tuesday - 9am - Cross-Training and Open Gym
Tuesday - 9am - 11 - Open Gym
Tuesday 4 - Cross-Training and Open Gym
Tuesday 5 - Open Gym
Tuesday 6 - Open Gym
Tuesday 7 - Cross-Training and Open Gym
Tuesday 8 - Cross-Training and Open Gym
Wednesday 9am - Cross-Training and Open Gym
Wednesday 9am-11 - Open Gym
Wednesday 4 - Cross-Training and Open Gym
Wednesday 5 - Open Gym
Wednesday 6- Open Gym
Wednesday 7 - Cross-Training and Open Gym
Wednesday 8 - Cross-Training and Open Gym
Thursday 9am - Cross-Training and Open Gym
Thursday 9am-11 - Open Gym
Thursday 4 - Cross-Training and Open Gym
Thursday 5 - Open Gym
Thursday 6 - Open Gym
Thursday 7- Cross-Training and Open Gym
Thursday 8 - Cross-Training and Open Gym
Saturday 10am - Cross-Training and Open Gym
Saturday 11am - Open Gym (select weeks)
Sunday 10:00am - Cross-Training and Open Gym
Sunday 11:00am - Open Gym
Sunday 7:00pm - Cross-Training