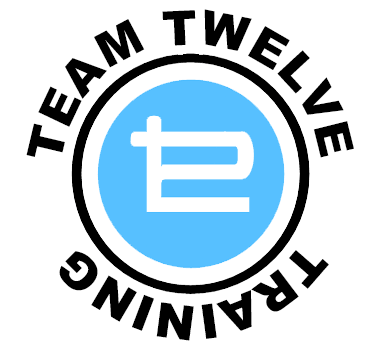 Physical, Technical, Tactical + Competitive Volleyball Programs
Volleyball Camp
2 Indoor Volleyball Camps are offered each Summer
On-Court Instruction
Small Group Technical Instruction Volleyball or Basketball
Beach and Indoor Volleyball
Summer Beach Programs and Indoor Volleyball Programs All Year
Volleyball Camp
2 Indoor Volleyball Camps are offered each Summer
Summer Youth Memberships
Use the off-season to prepare for the next season
T12 Apparel
New T12 shirts each month to add to your collection.
Adult Cross-Training
Memberships That Work
Summer Youth Memberships
Use the off-season to prepare for the next season
Team 12 Training is always looking to work with new organizations and athletes. Contact us to find out how to become an affiliate or how to get started with your training.
Team 12 Training:
Team 12 Training has been helping people with their fitness and sports performance goals for over 20 years. T12 Training is currently located in Oshawa, Ontario. T12 provides personal training, group training and team training for individuals of all fitness levels and sporting abilities.
Contact us to find out how you can become part of "The Team".
​
TEAM 12 TRAINING PROVIDES THE FOLLOWING SERVICES:
​
ADULT CROSS TRAINING MEMBERSHIPS

YOUTH SPORT SPECIFIC TRAINING PROGRAMS

TEAM TRAINING SESSIONS

PRIVATE AND SEMI PRIVATE VOLLEYBALL AND BASKETBALL INSTRUCTION

SUMMER CAMPS

ELITE BEACH VOLLEYBALL PROGRAMMING
Email: mike@team12training.com for any training related questions.
​
ABOUT US:
​
MIKE SLEAN - OWNER
​
Mike Slean is the owner and lead trainer at Team12 Training. T12 Training trains hundreds of athletes every year. Mike played 5 years of indoor volleyball with the University of Toronto Varsity Blues. He was a 5-time first team Ontario All-Star and 4 times received All-Canadian recognition. Mike then went on to represent Canada on the beach as a member of the Canadian Beach Volleyball team. Mike played on the World Tour, World Championships and the Pan-Am Games.
As a coach, Mike has spent the last 9 years coaching with the Durham Attack Voleyball Club. In 2012, the 17u Girls team won both Provincial and National Gold. In 2016, his 16U Boys team won Provincial and National Gold as well. The following season Mike coached the 12U boys and the 17U Boys, with the 17U team winning the Provincial Championship. Mike was awarded the OVA Coach of the Year in 2017.
Mike was recently inducted into the University of Toronto Sports Hall of Fame. Mike used his Bachelor of Physical Education and Health and his Bachelor of Education at Durham College where he taught in the Fitness and Health Promotion Program for 5 years. Mike has been certified with the Canadian Society of Exercise Physiologists as a Personal Trainer for the last 14 years.
​
TONY KIRIAKOU - COACH
KYLE MARSH - TRAINER
DAVID CLARKE - TRAINER
​